The CIVIS Media Award is for editors and filmmakers "who have the guts to make something happen", says Annette Widmann-Mauz, Commissioner of the Federal Government for Migration, Refugees and Integration. CIVIS is all about migration, integration and cultural diversity – issues easily leading to conflict. CIVIS prizewinners are often confronted with unacceptable social evil. It takes investigative courage to detect and uncover serious violations of civil behavior and human rights. And it takes narrative skills and formal creativity to turn the evidence into a convincing media product. When this is achieved, the result can be "an emotional roller coaster", Widmann-Mauz says. "One moment, you hold your breath because of the suspense. The next moment you hold your stomach with laughter. And then you are deeply shaken and moved to tears." This Friday, the roller coaster is set in motion again.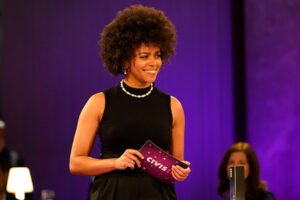 It is the 33rd time, the CIVIS Media prizes are awarded. Normally, this is a gala event staged at the Foreign Office in Berlin. The corona virus, however, has forced organisers to downgrade. Instead of the prestigious Weltsaal in Heiko Maas' ministry, the ceremony is held at a WDR studio in the Cologne suburb of Bocklemünd. Only about two dozen people have been admitted to follow the ceremony. As with the Oscars in Hollywood, winners are presented by prominent media and culture figures – not in person but in short video clips. Live action is left to studio presenter Aminata Belli and the nominated contenders for seven different prizes unless the pandemic has prevented them from travelling.
The setting may be more prosaic than usual but that is not inappropriate. More than 900 television, radio and film programmes from 22 EU countries and Switzerland entered the coompetion. "Some positive things were also reported", says Aminata Belli, the presenter. But many entries focus on situations of shameful misery: African refugees perishing in the Mediterranean, violence at EU borders, inmates tortured in Syrian prisons, discrimination and exploitation of ethnic minorities in the Balkans, xenophobia and social disruption, anti-semitism and rampant nationalism.
Andreas Freudenberg, Chairman of the Freudenberg Foundation's Board of Trustees, the CIVIS Foundation's main supporter together with WDR, has sent a video message: What he wants for his children and grandchildren is "a society living diversity and enjoying it". There's a long and hard road ahead, entries in the CIVIS competition demonstrate. On the other hand, they are an encouragement to keep on trying. They don't indulge in cheap sentiment. They point out serious flaws in our societies and call for action. That can be polemical, that can be moving. And sometimes it can be very funny.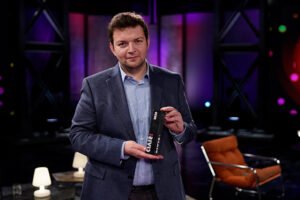 As is the case with the double winner, of the CIVIS TOP AWARD and the YOUNG C. AWARD for the best programme by a young generation director. Masel Tov Cocktail was created at the Baden-Württemberg Film Academy and co-produced by SWR and ARTE. It tells the story of Dima, a young Jew whose family emigrated to Germany from the former Soviet Union. When it comes to Jews, Dima claims, German cinema only knows two colours: black and white. "And we hardly ever strike back … but this is not that sort of film!!" Dima does strike back, breaking the nose of a fellow student who has hurled vicious anti-semitic abuse at him.
Is Dima right to react with physical force? Or completely wrong? He is not sure himself. "Anti-semitism is like herpes – nobody knows an effective remedy for this shit!" What we believe we know turns out to be a bunch of stupid stereotypes, ridiculed one by one with clinical precision in Masel Tov Cocktail. "Directors Arkadij Khaet and Mickey Paatzsch have pinpointed the tension between anti-semitism, attributions and patronising empathy quite wonderfully", actress Iris Berben says in her presentation of the film.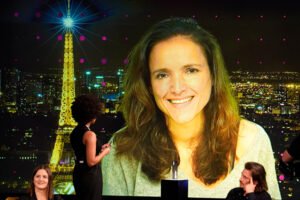 The Award for best Video Entertainment (Fiction) goes to a French television production which also adresses serious conflict with a sense of the comical side of things. Christel Gonnard and Pauline Rocafull, in their film Classe Unique (France Télévisions/France 3) illustrate Freudenberg's message that life in cultural diversity is a great challenge for society and a spezial task for the media. The two filmmakers describe what happens in a French provincial town when a group of refugees arrives. The community is sharply divided between those welcoming the newcomers and those fiercely opposing them. The conflict turns violent, the refugee quarters go up in flames. But not all is bad in villages like the fictional St. Laurent, says Rocafull. They suffer from shrinking population as the young ones move to the cities, and sometimes it dawns on them, by and by, that migrants might be an asset rather than a burden. "Positive stories happen". So – is it comedy stuff anyway? The CIVIS jury thinks so: "It's a comedy along lines of tragedy." Presenter Tedros Teclebrhan aka Comedy Teddy concurs: "It made me suffer and it made me laugh."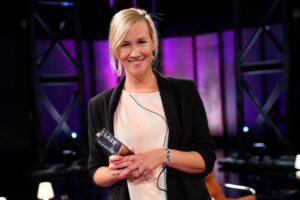 There is nothing funny in Anna Tillack's report on The Beggars From Walachia, a joint production of BR and Arte, which comes out top in the Video – Information category. The film dispels the myth that criminal gangs are invariably behind all those miserable foreigners hanging around outside our high street shops asking for money. That was Tillack's starting point as well. But then she found out that "reality is quite different." More often than not, it's utter destitution forcing members of the Sinti and Roma minorities in Romania to leave their children behind and move to the affluent countries further north. "The close look at individual human lives is particularly moving", says ORF director-general Alexander Wrabetz in a video message. His Swiss college Gilles Marchand, director-general of Swiss chains SRG SSR, agrees. CIVIS prize winners succeed because "protagonists manage to share their emotions and experience directly with the public".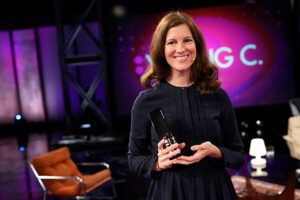 Soumayla Sacko, a former peasant from Mali now working as a harvester in Calabria/Italy is murdered. Franziska Sophie Dorau has investigated the background to the killing. Her radio report for ORF, The Death Of Soumayla Sacko, wins the CIVIS AWARD in the Audio – Long category. The jury calls it "a tale of slavery right in the middle of Europe". And it is an example of journalism with guts – the exploitation of foreign fruit pickers in Calabria is a business of N'Drangheta, the regional Mafia organisation. "Franziska Dorau describes the inhumane conditions for African harvesters working and living in Italy", says presenter Sandra Maischberger. And this is what the CIVIS Award winners are all about, film producer and CIVIS partner Minu Barati (Produzentenallianz) adds: "They make us realize that much too often in our petty, privileged life, we look the other way and paint us a much too rosy picture of the world."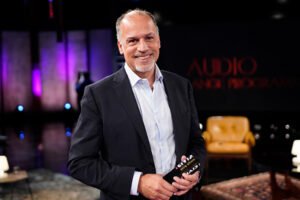 Neven Subotić, the Serbo-German football pro. Swiss radio reporter Peter Voegeli has researched a strange situation in the German city of Zittau, located next to the borders with Poland and the Czech republic. Prosperity in Zittau depends on open borders, one of the EU's main achievements. But almost one third of the electorate vote for the nationalist AfD party, which is decidedly anti EU. "Zittau profits from the EU. But the EU doesn't profit from Zittau", Voegeli wonders. His report Zittau – in the middle of Europe but not in the middle of the EU tries to give answers. It helps us "understand in concrete terms what Europe is all about", says Subotić. The report points to a dilemma adressed by WDR chief Tom Buhrow in his message to the ceremony: "The world is moving closer together – while at the same time being pulled apart by garish slogans."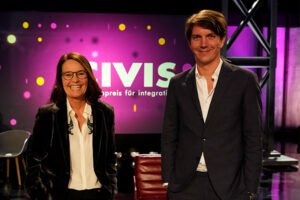 Traditionally, the CIVIS CINEMA AWARD is picked not by a jury but by public online voting. In her presentation of this year's winner, the actress Lena Klenke recounts how she was "totally surprised" when seeing the film for the first time although she was familiar with the story. Als Hitler das rosa Kanninchen stahl (When Hitler stole the rose rabbit) is based on Judith Kerr's classic youth novel, first published almost half a century ago. Since 2013 Jochen Laube, manager of producers Sommerhaus, had been planning for a film version. In the end, it turned out to be "a very quiet story", says director Caroline Link. It is a story that moved Klenke to tears when she watched the film in a small Bavarian cinema. The prize money is 2,000 euros in each category and 15,000 euros for the Top Award. But the team behind Masel Tov Cocktail, which has already been decorated with several other awards, decides to donate the money to two German NGOs. To strong applause in the studio, director Khaet announces that the Zentrum Demokratischer Widerspruch (Democratic Objection Centre) and the Amadeu-Antonio-Stiftung (Amadeu Antonio Foundation) will each receive one half.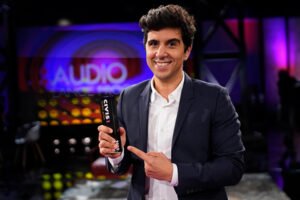 In addition, all winners take home a CIVIS Prism trophy. This includes talk show host Jafaar Abdul Karim, who is honoured with a special CIVIS Laudatory Mention for his immensely popular "Jafaar Talk" on Deutsche Welle's Arab language programme. The idea, Karim explains, is "to let different perspectives meet". Such as, for instance, a female Muslim activist and a leading Berlin figure from the AfD party. Which takes both skill and courage – and is in line with the intentions of Karim's boss at Deutsche Welle, director-general Peter Limbourg: "We must not allow our society to be divided!"
If you have missed the live stream of the ceremony there is the opportunity to watch it here. TOP AWARD winner Masel Tov Cocktail is available in full length here – an invitation to a free ride on "the emotional roller coaster". Check it out! The 2020 class of CIVIS prizewinners lives up to the promise of Deutschlandfunk director-general Stefan Raue: "There is always great freshness, great curiosity, great commitment."