Greetings from the State Minister Annette Widmann-Mauz >
Commissioner of the Federal Government for Migration, Refugees and Integration
The Corona pandemic shows once again how much our country benefits from diversity: Many women and men from immigrant families or with refugee experience work in areas essential to our society – be it in hospitals, nursing homes, gastronomy, retail, logistics or bus and rail. The development of a vaccine against Covid-19 has shown anew how important it is that all people in Germany – whether immigrants or those who have always been here – can contribute their skills and talents. They contribute to the well-being of our country, creating prosperity, innovation and good living conditions for all. This makes it even more important to promote and strengthen the foundations of our living together in a peaceful and democratic society. In a time of uncertainty, upheaval and unpredictability, togetherness is put to the test.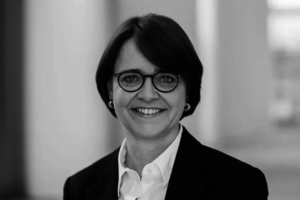 Facing the Corona pandemic, we are experiencing enormous solidarity and willingness to help one another. But at the same time, conspiracy theories and prejudices, racism and extremism are spreading. Many media professionals in Germany have committed to countering fanaticism with facts and ignorance with information. With their reporting, they reach the eyes and ears of millions every day. They enlighten, ensure transparency and present a plethora of information in a comprehensible way. In doing so, they reflect the diversity of our society in all its facets and perspectives. It is the only way we can develop a comprehensive picture of the state of our country, its potential and the challenges it is faced with.
I am very pleased that the many outstanding contributions submitted again in 2021 for the CIVIS Media Prize have dedicated themselves to precisely this goal – whether on radio, television or film. They make us think and share our feelings, they reach the minds and hearts of listeners or viewers.
For 34 years, we have been able to count on the CIVIS Media Prize and programmes from all over Europe. Today more than ever, we need contributions that show in their own unique way what our coexistence is based on: humanity, responsibility and respect for one another. I would like to thank all those working for the CIVIS Media Prize and wish the nominees every success for the 2021 award ceremony!